WAS AU$1,399.00
RRP AU$1,499.00
NOW AU$1,299.00
SAVE 13%!
Sale Ends in
00:00 am, 31 December 2020
In Stock
---
---
4 payments of AU$324.75 with

More info.
---
apply for 6 months interest free finance with Lombard
monthly payment AU$233.17
​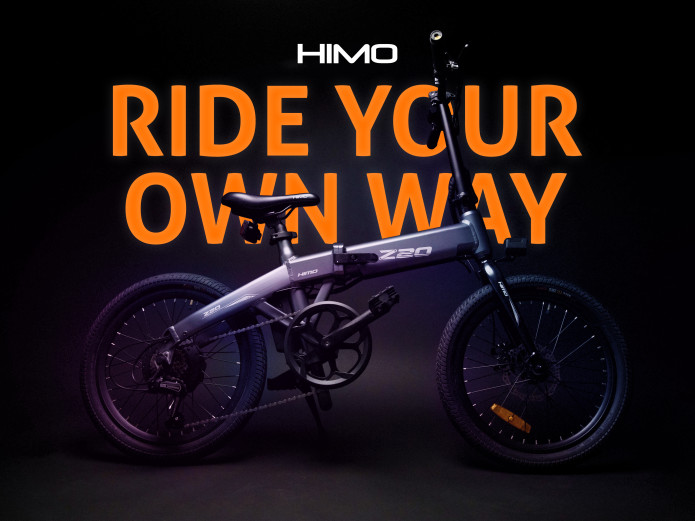 Tired of dealing with clunky vehicles, traffic jams, and public transportation?
It's time to ride in style with a bike that has it all.
Tell your old run-of-the-mill bike to move aside, because the powerful HIMO Z20 is here.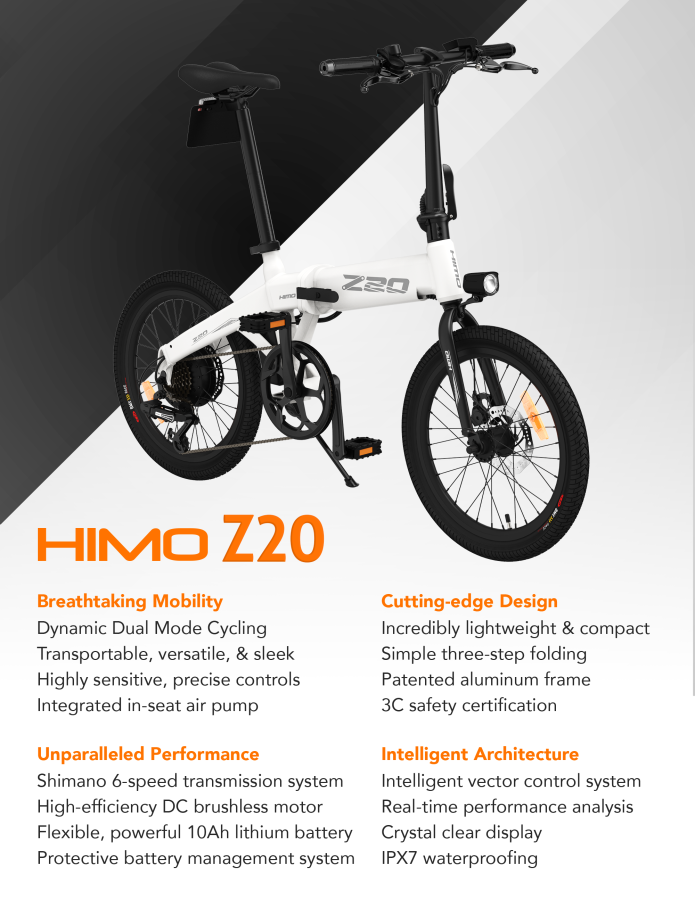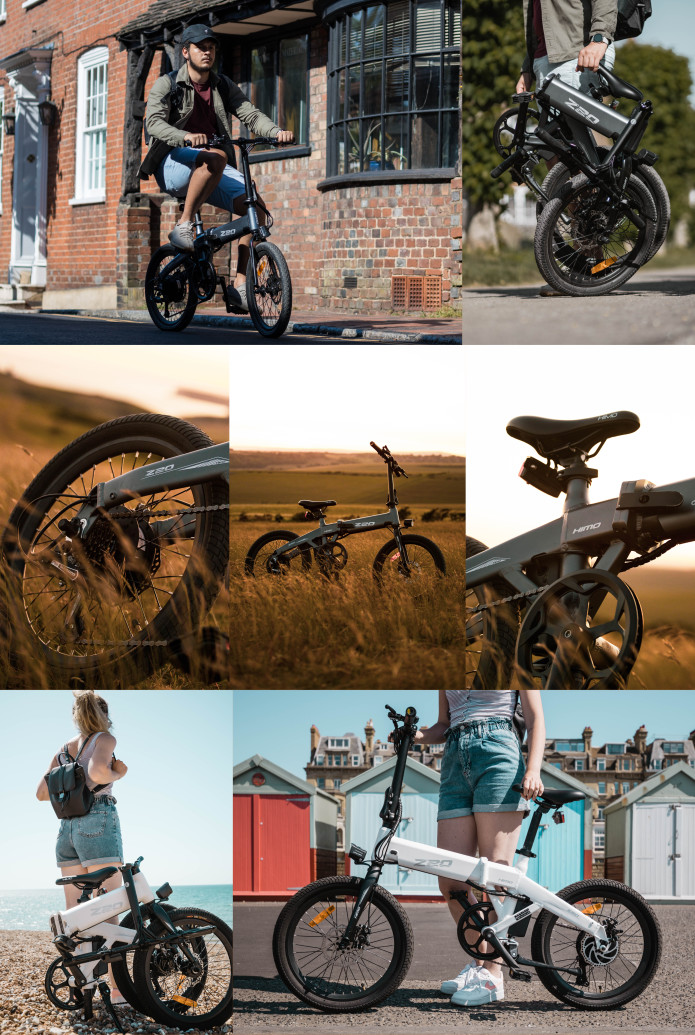 Dynamic Dual Mode Cycling - HIMO Z20 is optimally designed for both electric and manual cycling – and everything in between. Equipped with a casual riding Cool Mode and a quick & sporty Dynamic Mode – HIMO Z20's dual modes can easily be switched between with the press of a button according to your riding preferences. It's up to you to decide how much force to exert on HIMO Z20's pedals and throttle, which determines acceleration and power.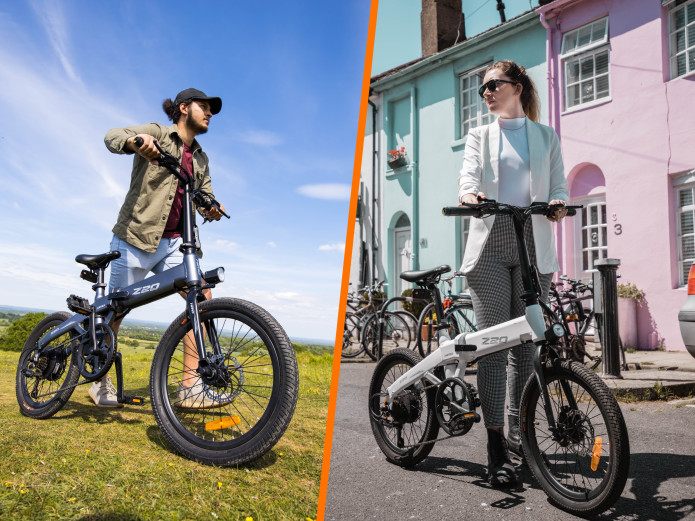 Going for a leisurely ride through the park? Switch on Cool Mode and apply a bit of electric acceleration to aid your pedaling for a carefree joyride.
Want to feel the thrill of maximum riding energy? Switch to Dynamic Mode to reach top speeds and new horizons.
Ride your own way.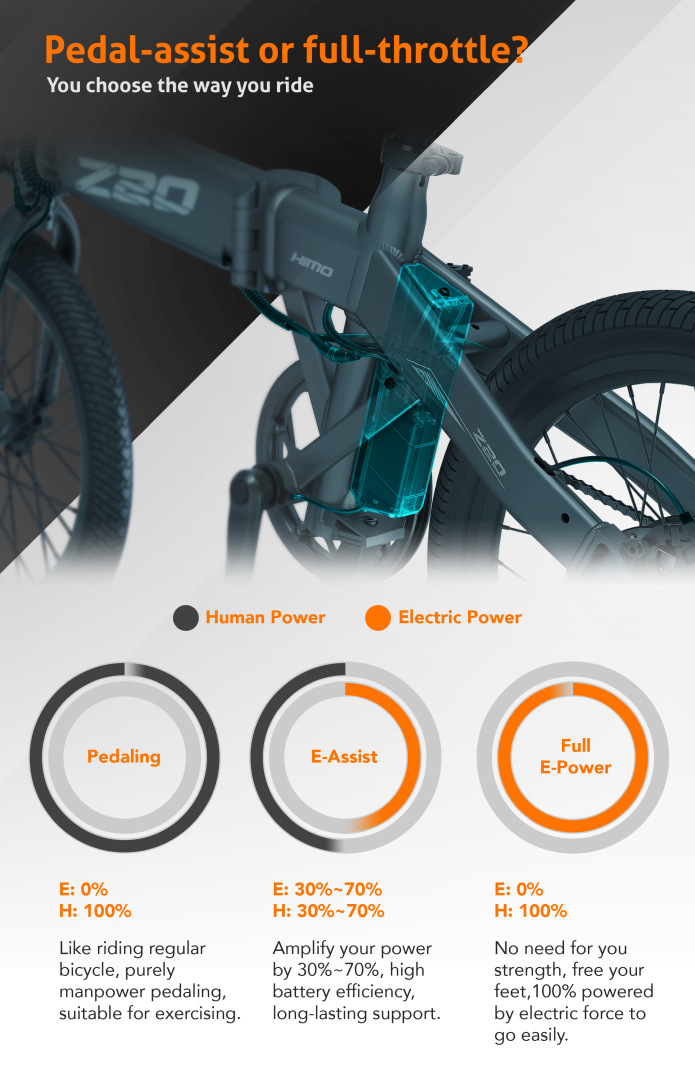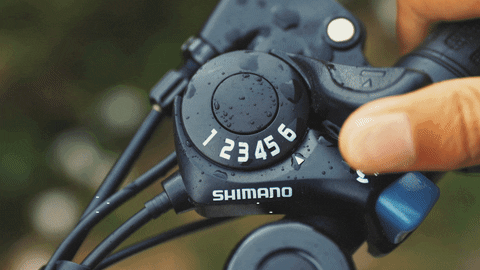 Transportable, versatile, & sleek - HIMO Z20's deliberate compact design allows for easy folding, storage, and transportability. Z20's innovative built-in battery box is closely connected to the body for space-efficiency, while its lightweight aluminum frame perfectly matches its inner wirings to create an elegant visage. Don't want to leave the battery in the bike? No worries, the Z20 comes with a dedicated key for the battery so you charge it wherever you want!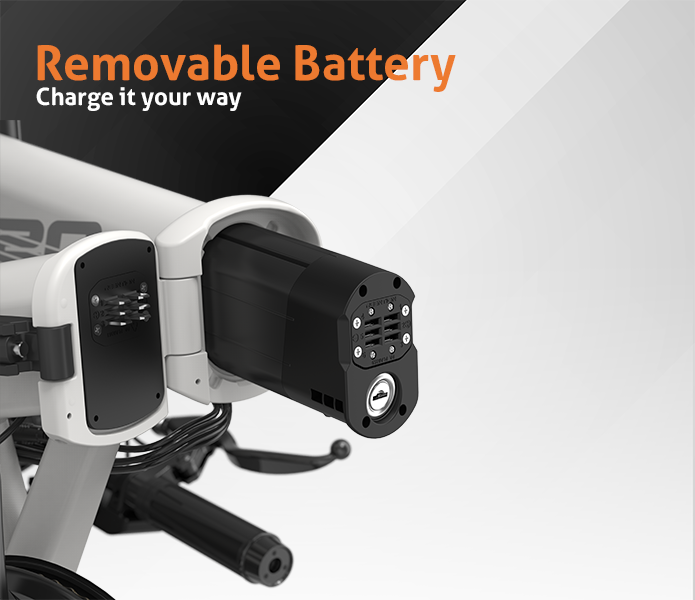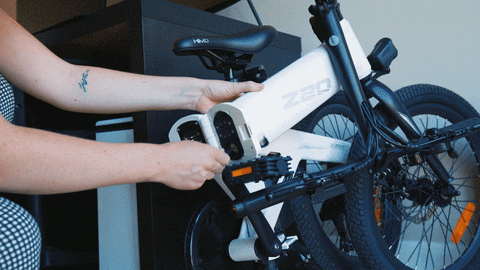 Highly sensitive, precise controls – HIMO Z20 is equipped with a meticulously designed intelligence center. Its interconnected vector control system analyzes vehicle information and provides users with real-time feedback, enabling efficient use and control of the kinetic energy produced while riding.
HIMO Z20's smart control system promotes efficient movement for an extraordinarily powerful riding experience.
Integrated in-seat air pump – Ever found yourself with a flat tire at the worst possible time? HIMO Z20's in-seat air pump travels everywhere with you, so your tires will always be in tip-top shape.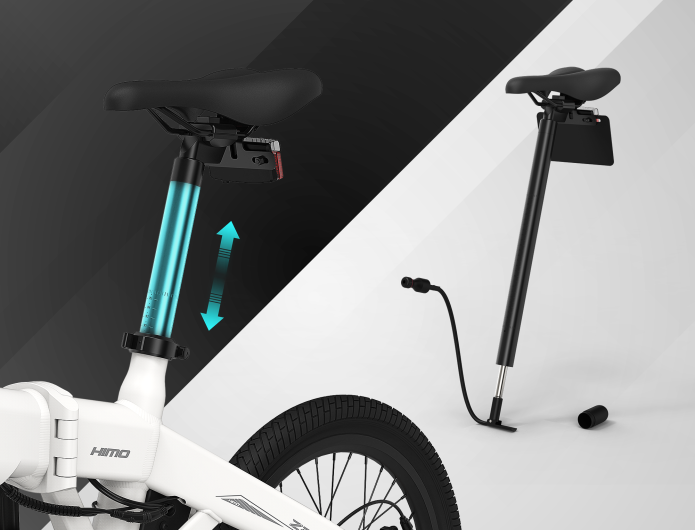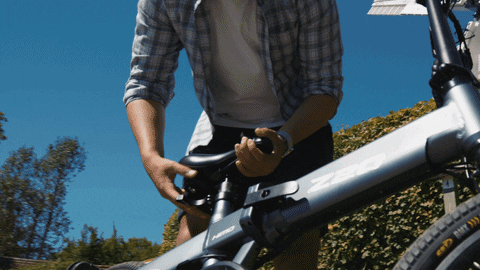 Incredibly lightweight & compact – HIMO Z20 folds in three places and only takes about 10 seconds to fold and unfold. It can easily be stored in a car trunk, taken in elevators, offices, etc.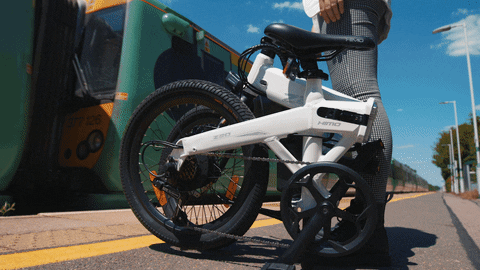 Simple three-step folding: Just unlatch the Z20's easy lock system on the frame and handle bar stem and you're ready to go!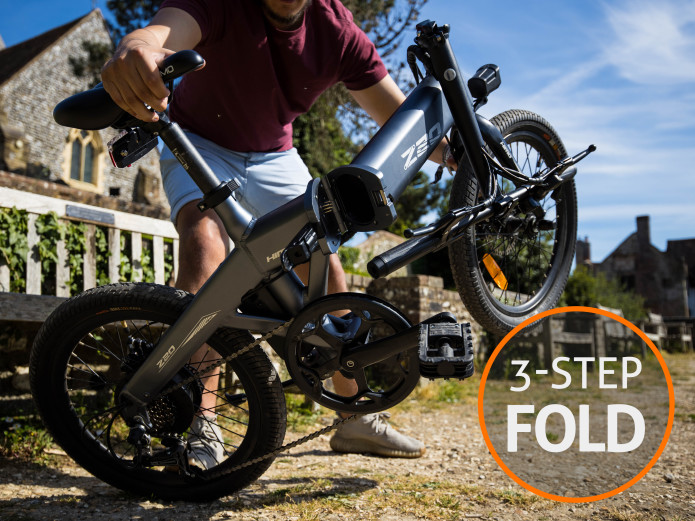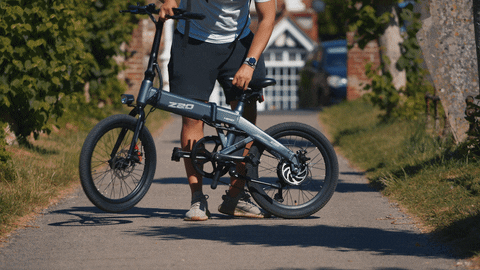 Patented aluminum frame – E-biking is now breezier than ever before thanks to HIMO Z20's modern aerodynamic frame. Our exclusive patented frame underwent extensive road-friendliness testing and received a 3C safety rating. HIMO Z20's aluminum frame is ergonomically designed to be both lightweight and durable for increased riding efficiency, mobility, and safety.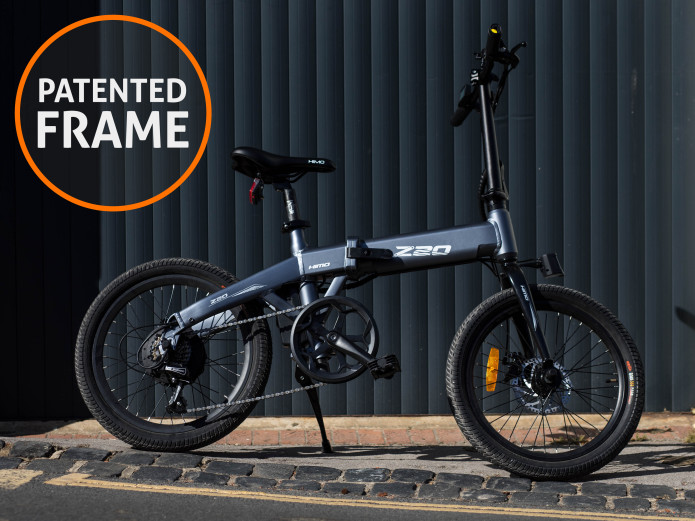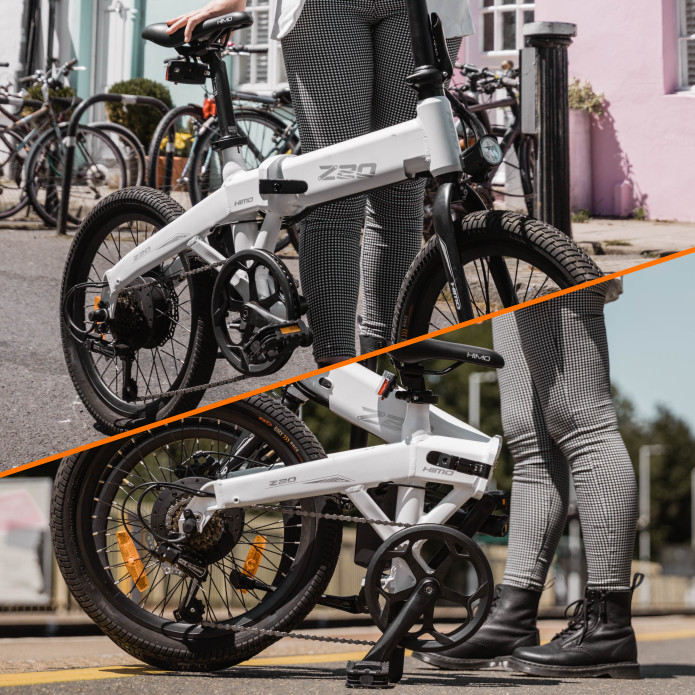 HIMO Z20 is equipped with a Shimano 6-speed Transmission System for fast and reliable gear adjustment. Select the best gear for the job and experience Z20's light, effortless riding.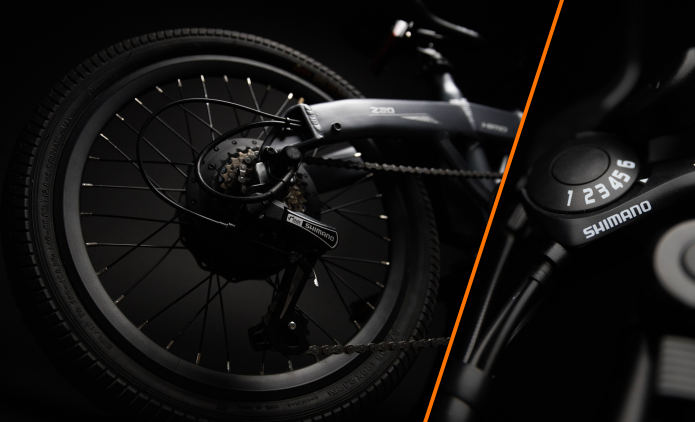 HIMO Z20's advanced High-efficiency DC Brushless Motor is powerful enough to ride completely pedal-free if you so choose, but also dynamic enough to enable a variety of riding options! Each acceleration level is a unique travel experience. The rear-hub motor provides the traction you need no matter the environment. With the slick yet grippy tires, the Z20 will really take you wherever you want to go, however you want to get there!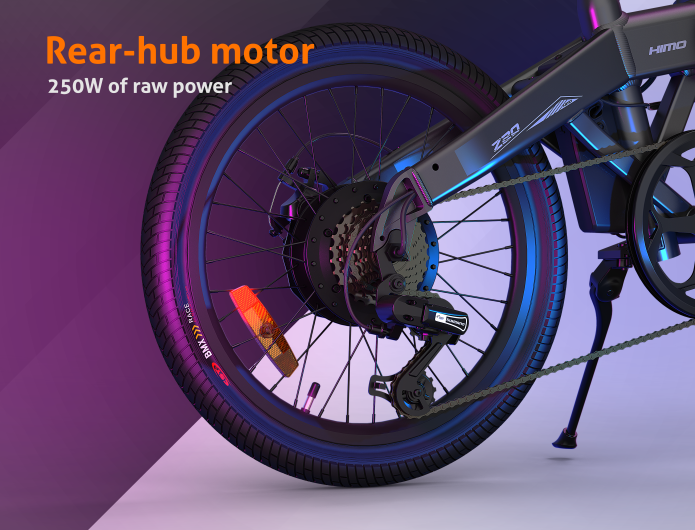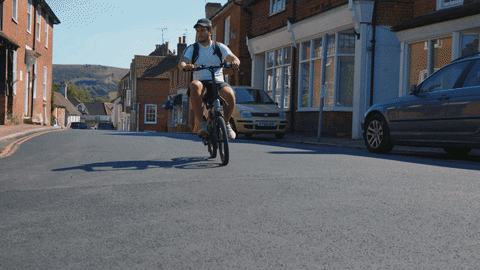 Thanks to HIMO Z20's Flexible, Powerful 10Ah Lithium Battery, you will be well equipped for both long excursions and vigorous fast-paced circuits. The battery is equipped with 10Ah of power for lasting energy output and the ability to ride 50miles/80km on one charge. Travel freely from the city to the countryside and beyond.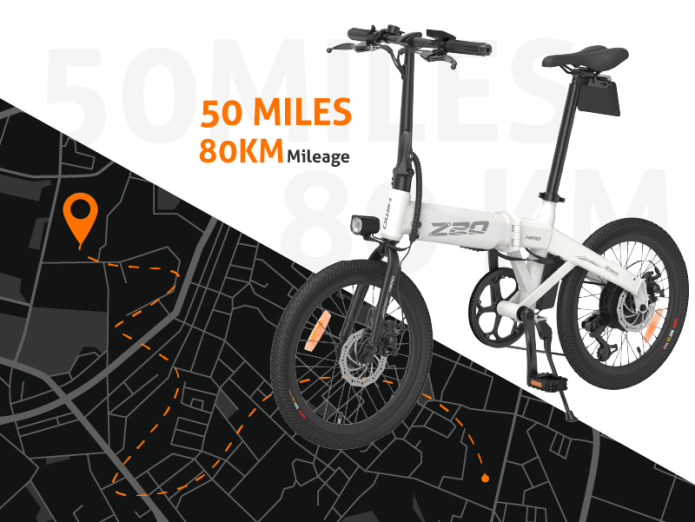 HIMO Z20's Protective Battery Management System accurately calculates power and comprehensively monitors important functions such as current, voltage, and temperature. Through the heat of Summer and severe Winters, HIMO Z20 provides sustained power regardless of environmental conditions.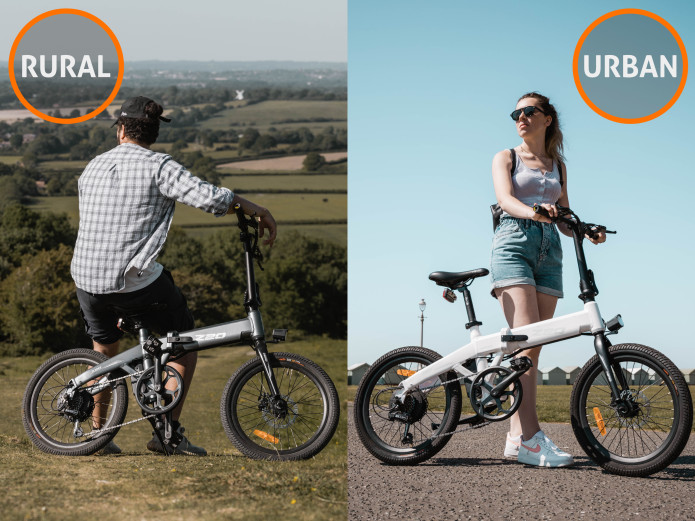 HIMO Z20's Intelligent vector control system functions as the vehicle's "brain" – containing multiple interconnected parts that send signals to communicate valuable information. This real-time data collection helps provide the user with feedback that optimizes Z20 riding.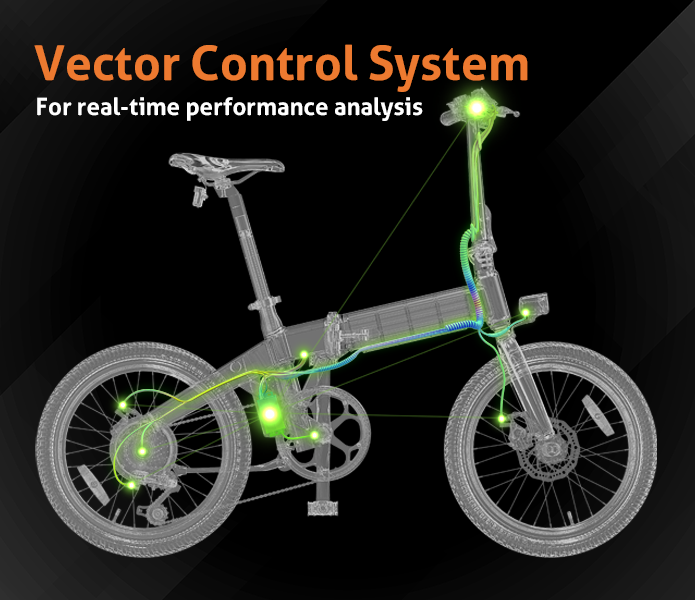 HIMO Z20's Crystal Clear Display conveys useful riding data to help users navigate and ride more efficiently. We've extensively tested, refined, and calibrated our Real-time Performance Analysis system to create a more personalized e-biking experience. Z20's intuitive interface enables swift navigation and switching between gears and modes for a more enjoyable e-ride.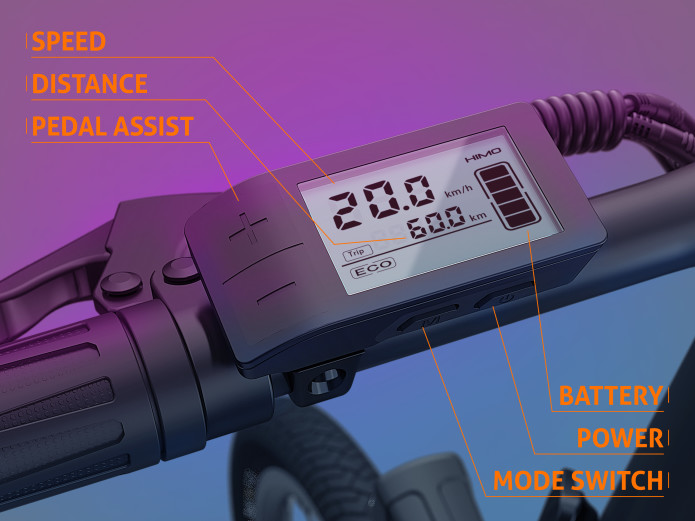 The HD display is readily equipped to handle the harshest of weather conditions! HIMO Z20's monitor has received an IPX7 waterproof rating for outstanding resistance to the elements.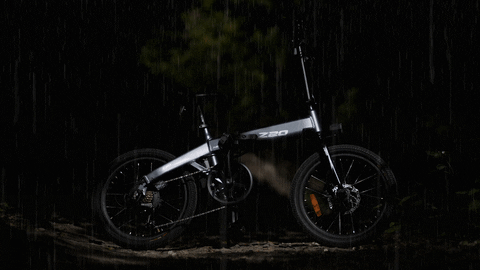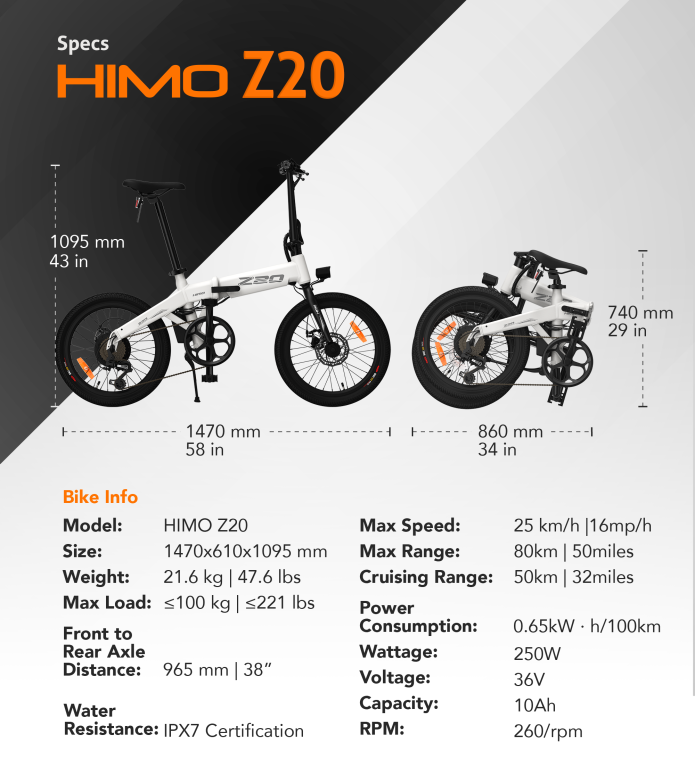 FAQ
What is the warranty and after sales service for HIMO Z20?
18 Months Battery Warranty; Controller, main wiring harness, frame charger: 12 months warranty; Instrument, headlamp, rotating brake handle, 6 months warranty; Fragile parts, artificial reasons do not include the scope of warranty
How's the battery life? How is it guaranteed?
1500 charge times + original warranty 18 months, 3 years battery life.
(Z20)
Be The First To Review This Product!
Help other DHZ MOTO users shop smarter by writing reviews for products you have purchased.
---
Others Also Bought
---
More From This Category